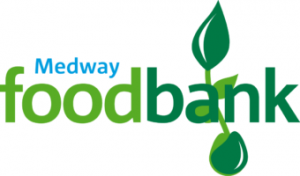 Hello to all our Supporters,
Thank you all for your much-needed ongoing support of Medway Foodbank. As we approach Harvest, particularly at this difficult time in the lives of so many, we are finding that the need for our help has increased considerably.  The stock levels of many items that we supply to those in crisis are under strain due to significant increases in the numbers of people needing our support. In order for us to be able to continue to offer the same level of support to those facing a time of financial crisis, we continue to need your help.  Please find attached (in two print sizes) Medway Foodbank's latest stock shortage or Shopping List Sept-Oct 21[4963]which covers September and October, including Harvest. This focuses on items that we particularly need in stock right now.  We aim to provide a broad spread of basic provisions and some treats and extras where we can.
Medway Foodbank only works with non-perishable food items (tinned and dried goods), which do not spoil or decay, i.e. not fresh, chilled or "use by" dated items. All items should be unopened, in date (i.e. within the "best before date" or BBD) and in good condition. This means that neither the foodbank nor the recipient has to worry about storing the food in a fridge or freezer, and there is less likelihood of food going to waste.  It also means that we can give each client a food parcel that contains three days' worth of nutritionally balanced food, as well as provide some small treats to help brighten their lives, particularly those of the many children we help to support. We also take non-food items such as toiletries and cleaning products, as these are also needed by the clients who come to us.
We are also currently in need of carrier bags, or suitable alternatives such as heavy-duty paper bags, in which we may hand-over the items to our clients. We realise that plastic carrier bags are not ideal from an environmental point of view, but if you have some in good condition that you do not need, please 'recycle' them by giving them to Medway Foodbank. You could leave bags of them at our collection points or contact us regarding collection or delivery. They will really help our delivery service. The heavy-duty stitched bags-for-life are not really suitable for our present needs.
Please note: At the moment we are asking that you do not bring donations directly to our warehouse without first contacting the office – this is in order to keep you and our teams as safe as possible during the pandemic. We are also able to collect donations from you if you prefer. Please call our office on 01634 757057 to arrange a collection or delivery. Office hours: Tues – Thurs 9.30am – 3.30pm & Fri 9.30am – 1.30pm
Supermarket Collection Points: Several supermarkets and shops have Medway Foodbank collection points. Please note that for the two Tesco and two Asda stores, these points can only be used for items purchased in-store. The reason they are different is that these supermarkets also donate a financial top-up for items bought and donated by the public in their stores which we really appreciate.
Spareable: Instead of popping something extra in your basket or trying to get donations to us, you could help today by buying something from our foodbank's wish list in the Spareable app (download from here https://www.spareable.co.uk/ or your usual App Store). You can also purchase gift vouchers for us through the app if you prefer this, in lieu of making monetary donations for purchasing food.
Financial donations towards the cost of the work are also very helpful.  Information about financial donations and other ways you can support Medway Foodbank is on our website: https://medway.foodbank.org.uk/give-help/. A QR code link is also on the attached lists – this will take you to our Golden Giving page.
I hope you find this information useful. Please do contact the office if you have any questions or need further information. Thank you for your ongoing help, support and prayers – Medway Foodbank would not operate without your generosity.
Thank you and kind regards,
Medway Foodbank