3rd August 2022
Please remember in your prayers dear Fr Malachi Steenson, a very popular visiting priest who did Mass cover here for many years. He died peacefully last Sunday 31st July.
May he rest in peace and rise in glory
Please also remember his parish community at Our Lady of the Sacred Heart in Herne Bay, his family and his many friends.
09 July 2022
Union of Catholic Mothers
'A lovely evening was had by the Ladies of UCM, as we had a demonstration of Flower Arranging by Josie Ryder. She then guided us through our own efforts, which, thanks to her, resulted in some lovely looking displays. Good enough for the flower arranging group I reckon! If you want to join the UCM & have fun with us, you are most welcome. First Tuesday of the month. Helen Appleby, President '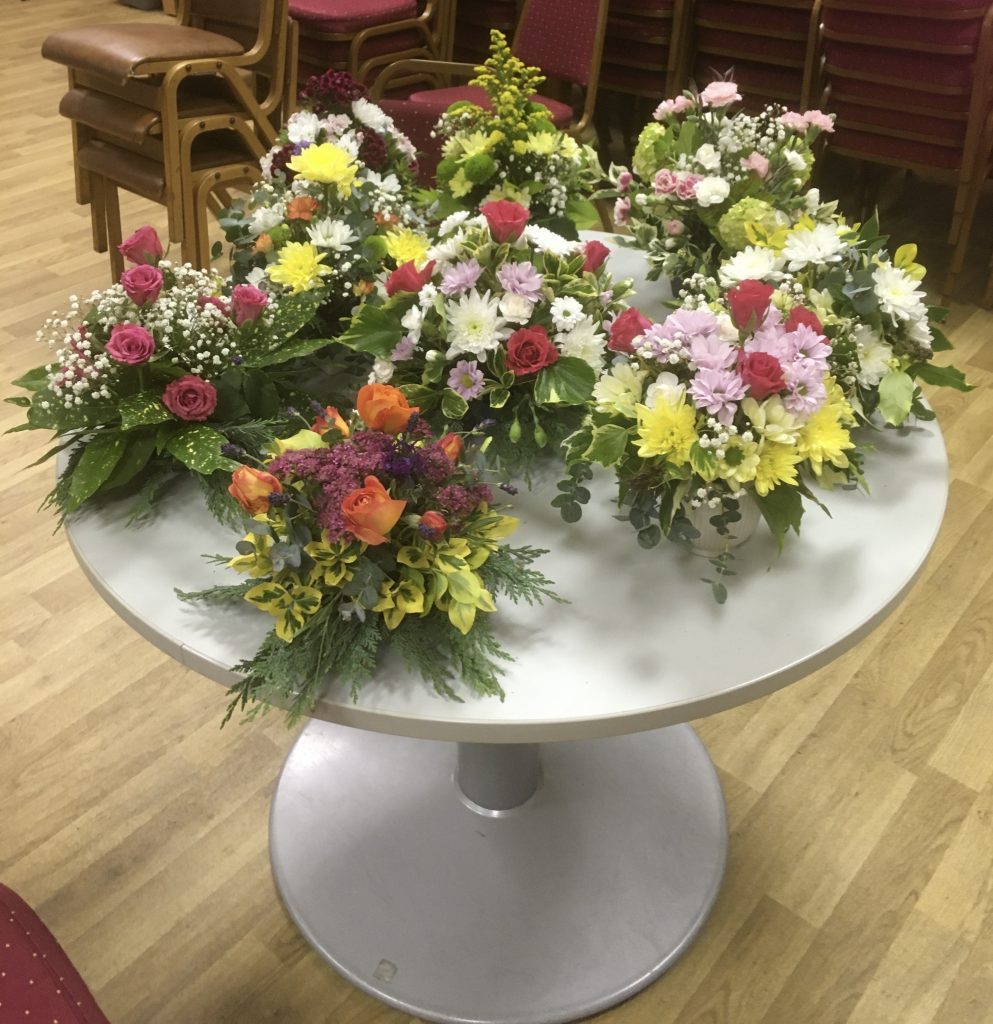 29 June 2022
Minutes of the Finance Committee Meeting held on 23 June 2022, please click here.
21 June 2022
Summer Fete!!!
This year's fete will be on Saturday 2nd July from 11am. Please make a note in your diaries to come along and support us. As always we need help for this to go ahead, and a list has been put at the back of the church showing where help is needed. PLEASE SIGN UP We also need volunteers to help on Friday 1st July at 10.30am.
DONATIONS: We are in need of donations for the following stalls:
Bottle Tombola – bottles of all sorts (drinks, toiletries, ketchup etc); Toy Stall – any toys, games, puzzles etc.; Cuddly Toys – Teddies/soft toys; Water into Wine – bottles of wine. All donations to be left in the hall by 26th June please. As always your generosity is greatly appreciated.
If anyone has a gazebo we can borrow can you please bring them to church by Thursday 31st June. We will be putting them up on Friday 1st July.
16 May 2022
Congratulations for our Altar Servers!
On the 2nd of May 2022 in Aylesford Priory during the Guild of St Stephen's 44th Annual Rally for Altar Servers three of our altar servers have been enrolled with Bronze Guild of St Stephen medals.
If you wish became an altar server in our parish ask your parents to speak to Fr Pawel or Deacon Martin.
3rd May 2022

18 April 2022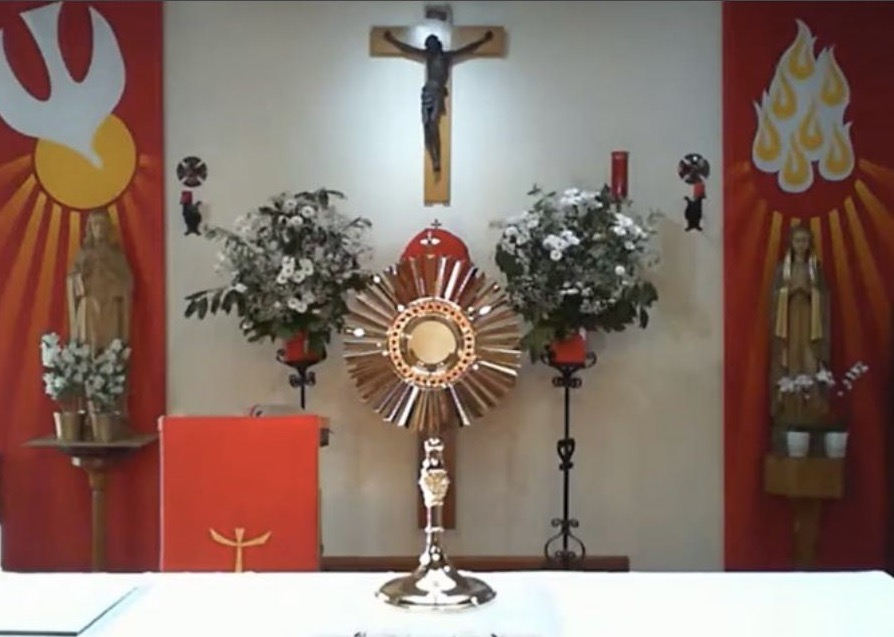 The Blessed Sacrament is exposed in our Church every Wednesday from 2pm to 10pm. You are welcome to come in and spend some time with Jesus in Silent Prayer and Adoration.
Holy Rosary and Evening Prayer on Zoom every week – this has been suspended during August and will restart in September
The Holy Rosary takes place on Mondays at 6:50 pm (to allocate the Mysteries to each participant) the Rosary starts at 7:00 pm and finishes by 8:00 pm. Everyone is welcome to join by clicking on the following link and use the details below:
https://us06web.zoom.us/j/4029591416?wd=SWZFeWhEcElBczJiM3k3Y2owa1lvUT09
Meeting ID: 402 959 1416; Passcode: 8U1miD
Litany for Peace in Trouble Times
Litany to the Immaculate Heart of Mary
Evening Prayer takes place on Tuesdays at 6:00 pm.
Everyone is welcome to join by clicking on the following link and use the details below:
https://us06web.zoom.us/j/93618213412?pwd=c1pKVFZORnh5Z3BZL0huTTQ3UE9YZz09
Meeting ID: 936 1821 3412; Passcode: 183029
Looking forward to seeing you on Zoom soon.
Prayer for Peace in Ukraine
Father in Heaven, have mercy on us and on the whole world!You sent Your Son, the Prince of Peace, for the salvation of the world. We pray that the Peace of Christ will reign in Ukraine.Please protect and send aid to those in Ukraine and all who are at-risk.We pray for peace – we pray for all who are working towards it and for all who are in danger from this conflict. We pray for an end to violence and war – we pray for wisdom for all leaders who have a hand in this.Lord God, please help those in most need of your mercy.Blessed Virgin Mary, Queen of Peace, pray for us!Saint Joseph, Protector of Mary, Jesus and the Church, pray for us!Lord Jesus, Prince of Peace, may your kingdom reign in Ukraine and all the world.
Amen.
100 Club – Parish Lottery
PARISHIONERS ARE INVITED TO JOIN THE PARISH LOTTERY/100 CLUB AT ANY TIME THROUGHOUT THE YEAR.
Annual subscriptions are paid in advance at £12 per number and there is no limit to the amount of numbers that can be purchased.
Joining can take place any time, in which case the subscriptions due are calculated at £1 per number per month, starting from the date of joining, up to and including February of the following year.
To make payments online for your subscriptions, please use the following details. Thank you.
Please note that when making payments online the details shown will appear as: Roman Catholic Diocese of Southwark Diocesan Trust

Nat West Bank
Sort Code: 60-50-01
Account Number: 79144055
Name of Account: St Simon Stock RC Church 100 Club
To give your Financial Support to the Parish online, please use the details below:
Nat West Bank
Sort Code: 60-50-01
Account No: 79144020
Account Name: St Simon Stock Roman Catholic Church Charity No: 1173050
If you are a UK Tax payer, you may increase your donation by 25p for every pound you donate. So please sign a Gift Aid Declaration and we will be able to claim the tax you have already paid on that amount. Thank you