9 January 2022
There will be no Masses from Monday 10th to
Friday 14th January as the workmen will be in the church
installing the new heating system.
Fr Pawel will say all booked Mass intentions privately
No Wednesday Adoration on 12th and 19th January.
15 December 2021

Christmas Services in our Parish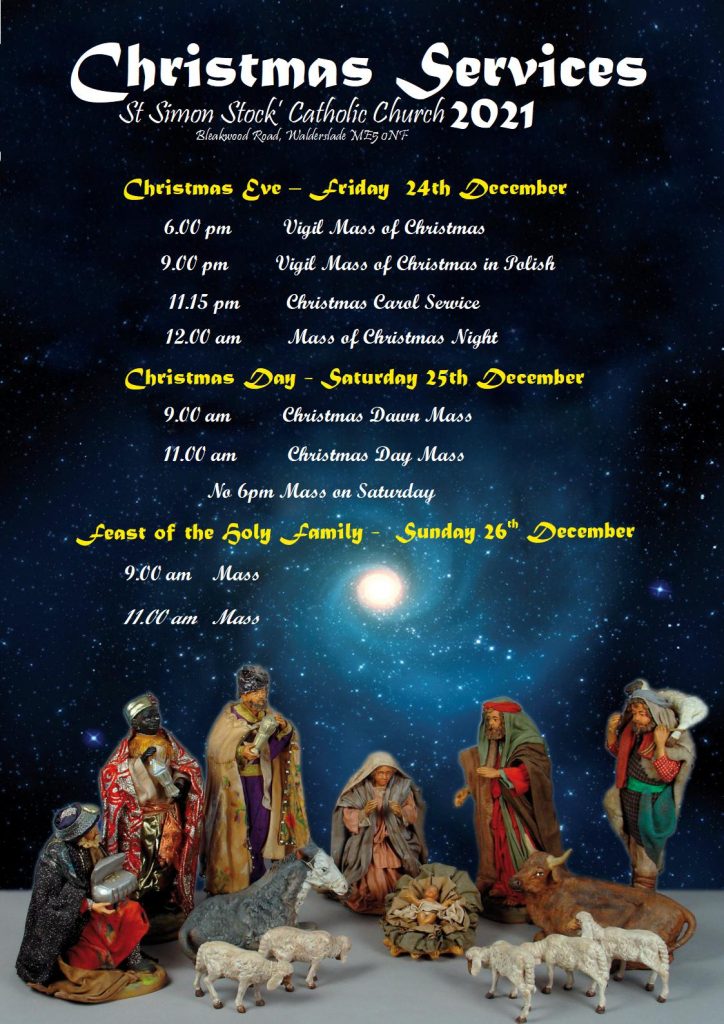 Christmas Eve – Friday 24th December 2021
6.00 pm – Christmas Vigil Mass
9.00 pm – Christmas Vigil Mass in Polish
11.15pm – Christmas Carol Service
12.00 am – Midnight Mass
Christmas Day – Saturday 25th December 2021
9.00 am – Mass of Christmas Morning
11.00 am – Mass of Christmas Day
NO 6.00 pm on Saturday

Holy Family Sunday 26 th December 2021

9.00 am – Mass
11.00 am – Mass
Download the leaflet with a detailed list of Christmas services.
If you can't come to the church
WATCH The Christmas Mass livestreams from St George's Cathedral celebrated by Archbishop John Wilson

Midnight Mass of the Nativity of the Lord (24th December):
Livestream: https://youtu.be/NB207YBhxF8
(This will commence from 11.45 pm onwards)
Christmas Day Mass Saturday 25th December 2021 at 10 am
Livestream: https://youtu.be/wJgG_JMUyoc (from 9.45 am onwards)
27 November 2021

Advent sessions with the Bible
6th December at 7.30pm – The Messiah in The Old Testament
13th December at 7.30pm – The Nativity of Jesus in the Gospels
led by Fr Pawel Sobol
30 November 2021
Holy Rosary and Evening Prayer on Zoom every week
The Holy Rosary takes place on Mondays at 6:50 pm (to allocate the Mysteries to each participant) the Rosary starts at 7:00 pm and finishes by 8:00 pm. Just for 6th and 13th December this will be moved to Tue 7th and Tue 14th Dec and will start at 6:30 pm.
Everyone is welcome to join by clicking on the following link and use the details below:
https://us06web.zoom.us/j/4029591416?pwd=SWZFeWhEcElBczJiM3k3Y2owa1lvUT09
Meeting ID: 402 959 1416
Passcode: 8U1miD

Evening Prayer takes place on Tuesdays at 6:00 pm.
Everyone is welcome to join by clicking on the following link and use the details below:

https://us06web.zoom.us/j/93618213412?pwd=c1pKVFZORnh5Z3BZL0huTTQ3UE9YZz09
Meeting ID: 936 1821 3412
Passcode: 183029
Looking forward to seeing you on Zoom soon.
29 November 2021
"The UCM Secret Auction – We have had a very successful Auction, receiving 23 bids altogether. The highest bid was for £200. Thank you so much for your generosity. A cheque will be sent to Father for £210 for the Development Fund as we also received donations; Thank you. The Knitted Nativity Set is on its way to the winning bidder."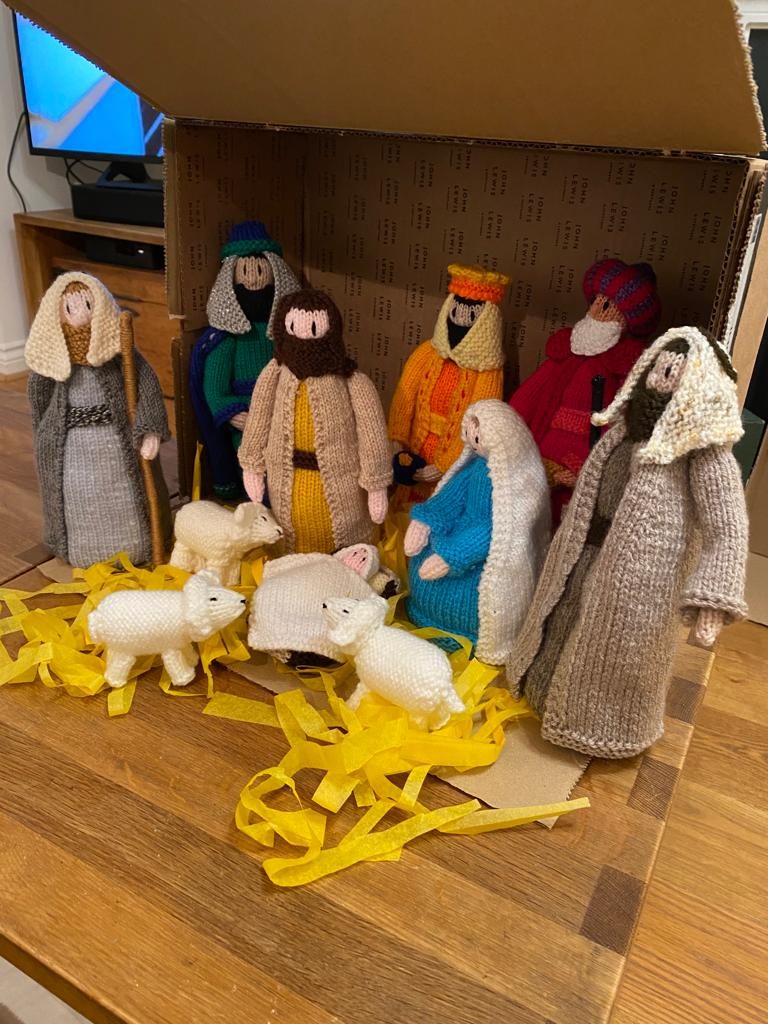 1 November 2021
The minutes of the Finance Committee meeting held on 7th October 2021 are available here
1 October 2021
Confirmation Course 2021/2022
Now that COVID restrictions have eased, we have decided to restart the program. We are intending to start after the Oct half-term, with the first session being held on Friday 12th Nov at 5:30 pm. It is hoped that we will have the Confirmation Mass close to Pentecost next year. We will meet on Friday evenings at 5.30 pm during term time, with extended breaks for Christmas and Easter. Young people in Year 9 and above are invited to contact the parish for an application form. Please note:
Applicants must be in school Year 9 or above.
It is the applicant themselves that has to apply.
You are required to attend all of the sessions on the programme.
You must have made your First Holy Communion.
You must provide a copy of your Baptism Certificate (or proof of Baptism).
18th September 2021
Click to see photo galery from the Celebration of 50th Anniversary of the opening Of the church building & Fr Pawel's induction Mass
100 Club – Parish Lottery
Watch January 2022 Draw
PARISHIONERS ARE INVITED TO JOIN THE PARISH LOTTERY/100 CLUB AT ANY TIME THROUGHOUT THE YEAR.
Annual subscriptions are paid in advance at £12 per number and there is no limit to the amount of numbers that can be purchased.
Joining can take place any time, in which case the subscriptions due are calculated at £1 per number per month, starting from the date of joining, up to and including February of the following year.
To give your Financial Support to the Parish online, please use the details below:
Nat West Bank
Sort Code: 60-50-01
Account No: 79144020
Account Name: St Simon Stock Roman Catholic Church Charity No: 1173050