Message we have received on Wednesday 8 April 2020
Dear All,
The National Catholic Safeguarding Commission (NCSC) has confirmed the statement below as policy position.
"Reporting abuse
 If you are concerned about the welfare of a child or adult at risk, do not delay in contacting the police, using 999 if a child or adult is believed to be in immediate danger.
 It is the policy of the Catholic Church in England and Wales to report all allegations of abuse to statutory authorities, regardless of whether the abuse occurred recently or in the past, or whether the accused person is living or deceased.
 If you are in any role within the Catholic Church in England and Wales, you must refer allegations directly to the safeguarding office for your diocese or religious congregation, or directly to the Police.
 If you are a member of the public, please refer allegations directly to the police and also to the safeguarding office in your diocese. You can contact the Archdiocese of Southwark Safeguarding Office by telephoning 0207 261 1606 or via email at safeguardingoffice@rcaos.org.uk"
Kind regards,
Kaella Weekes
Administrator
Roman Catholic Archdiocese of Southwark CIO
Safeguarding Office
St Gabriel's House
Westminster Bridge Road
London, SE1 7FQ
0207 261 1606
Helpline Information:
Samaritans – Phone if you feel you are struggling to cope and need
someone to talk to.
Helpline: 116 123 (open 24 hours).
Refuge – Phone if you are experiencing domestic abuse.
Helpline: 0808 2000 247 (Open 24 hours).
AgeUK – A range of information, advice, advocacy, and practical help services for older people
Helpline: 0800 678 1602
Childline – A counselling service for children
Helpline: 0800 1111
Mental Health Helplines – NHS compiled list of helplines and support groups that can offer expert advice. Click on www.n-voluntary-hs.uk
The government have launched the "Ask for ANI" codeword scheme in partnership with Boots and independent pharmacies across the country.
Those who are victim to or at risk of domestic abuse can ask for ANI and a safe space will be provided, by a trained pharmacist, to allow the individual to access support services and helplines. Where the victim is at risk of harm, the police and other relevant authorities may be contacted.
This scheme is especially useful in helping those who are isolated at home with their abuser and unable to access help.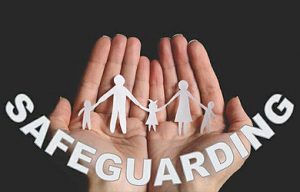 Our Parish is committed to the safety and welfare of children and vulnerable adults and, by working with the Archdiocese of Southwark Safeguarding Office, we do our utmost to ensue that our children and vulnerable adults are kept safe and free from harm.
For this reason, whenever a parishioner volunteers for a position within the Parish which involves coming into contact with children or vulnerable adults, a check has to be made with the Police, via the Diocese, for a search of their records to be carried out to ensure that this person has no record of any kind which would preclude them from carrying out their volunteer role. All being well, a certificate is then issued to confirm this.
To obtain this certificate, however, a process of obtaining references and providing proof of identity must be carried out.  Any new volunteers will need to give their name, address and contact details to Margaret Whitworth, who will start the ball rolling. Completion can be very quick, largely depending upon how long the parishioner takes to complete the forms and provide the necessary documents, but the main thing is that all parishioners who have contact with our children and vulnerable adults are checked and shown to be safe to work with those we need to protect.
(A vulnerable adult is defined as:
Anyone over age 18 who is unable to look after themselves because of disability, chronic illness or age, also the homeless, substance abusers, the subjects of domestic violence or asylum seekers)
Margaret Whitworth
Parish Safeguarding Representative.