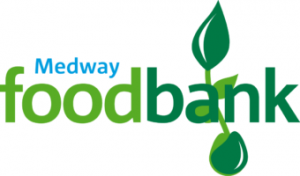 St. Simon Stock Parish
St Benedict's and St Thomas More
supporting Medway Foodbank in 2020.
The Medway Foodbank is part of the Trussell Trust's network of 428 foodbanks, working to tackle food poverty and hunger in local communities, as well as across the UK.
The Trussell Trust Foodbank Network was founded in 2004 after four years of developing the original foodbank based in Salisbury. Since then The Trussell Trust has helped communities work together to launch foodbanks nationwide in a wide range of towns and cities. The organisation thinks that that nobody in our local community should have to face going hungry. So that's why it provides three days' nutritionally balanced emergency food and support to local people who are referred to them in a time of crisis. If you want more information on how the Medway Foodbank operates then please visit their website on: medway.foodbank.org.uk.
The Medway Foodbank can only operate properly with the support and generosity of local churches, schools and organisations who provide them with donations of food and other essential items throughout the year. Our donations during Lent, Harvest time and during Advent are always gratefully received at the Foodbank Warehouse.
I am delighted to report that during 2019 our parishioners, schools and friends donated over a tonne of food and everyday essentials to the Medway Foodbank. Fantastic news! A huge thank-you to everyone for their generosity and kindness.
Our Parish collection times during 2020:
| | |
| --- | --- |
| LENT | Collecting from March 21st – March 29th |
| HARVEST TIME | Collecting from October 10th – October 18th |
| ADVENT | Collecting from November 14th – Nov 22nd |
 We now have a very good team of people from our church who help with these collections and take the donated items to the warehouse on the Medway City Estate. If you would like to help us too we would love to hear from you.
You can ring Trisha Mineham on 01634 686774 or contact her through the parish office. Trisha works at the Medway Foodbank Office on the Medway City Estate on Tuesdays. If anyone wants to donate items at any other time of the year then just get in touch with Trisha and she will take them to the warehouse for you.
Keeping Up to Date With Correspondence from The Medway Foodbank
From time to time I will also post on our parish website messages from our warehouse manager Kevin Jennings about stock levels etc.
This was emailed to us recently in June 2020:
Hello to all our Supporters,
Thank you for your ongoing support of Medway Foodbank. At this difficult time in all our lives, we thank you for your generous donations. Due to lock-down and the impacts of Covid-19 in general, our stock levels of many items have dropped.  The need is such that there are several items of stock where the levels need a boost. Please find attached (in two print sizes) Medway Foodbank's latest stock shortage or 'shopping' list. This focuses on items that we particularly need in stock right now in order to continue to help those in crisis across Medway. We aim to provide a broad spread of basic provisions and some treats and extras where we can.
Medway Foodbank only works with non-perishable food items (tinned and dried goods), which do not spoil or decay, i.e. no fresh, chilled or "use by" dated items. All items should be unopened, in date (i.e. within the "best before date" or BBD) and in good condition. This means that neither the foodbank nor the recipient has to worry about storing the food in a fridge or freezer, and there is less likelihood of food going to waste.  It also means that we can give each client a food parcel that contains three days' worth of nutritionally balanced food, as well as provide some small treats to help brighten their lives, particularly those of the children. We also take non-food items such as toiletries and cleaning products, as these are also needed by the clients who come to us.
All suitable donations are gratefully received, but in the interests of our clients, we want to give you clear guidance on the items we really need now, and those items that we do not currently need donated. We have noted at the bottom of the attached 'shopping list' the items we do not currently need donated. If some of these are donated, we will find space for them, but it would be far more beneficial to those that we support if the 'shortage' items are donated.
Spareable:  Use the Spareable app to donate items to us from the safety of your home. Instead of popping something extra in your basket or trying to get donations to us, you could help today by buying something from our foodbank's wish list in the Spareable app (download from here https://www.spareable.co.uk/ or your usual App Store). You can also purchase gift vouchers for us through the app if you prefer this in lieu of making monetary donations for purchasing food.  The gift vouchers are used by Spareable to purchase food from our wish list.
Financial donations towards the cost of the work are also very helpful. Information about financial donations and other ways you can support Medway Foodbank is on our website: https://medway.foodbank.org.uk/give-help/.
I hope you find this information useful. Please do contact the office if you have any questions or need further information. Thank you for your ongoing help, support and prayers – Medway Foodbank would not operate without your generosity.
Thank you and kind regards,
Medway Foodbank
Office and Warehouse: Unit 19, Riverside 1, Sir Thomas Longley Road, Rochester, Kent, ME2 4DP, 01634 757057, info@medway.foodbank.org.uk, www.medway.foodbank.org.uk, Find & like 'Medway Foodbank' on Facebook too! Registered Charity No: 1166505
Office Open: Tuesday-Thursday, 9.30 am-3.30 pm
Warehouse Open: Tuesday and Wednesday 9.30 am – 3.30 pm, Thursday 9.30 am – 1.00 pm