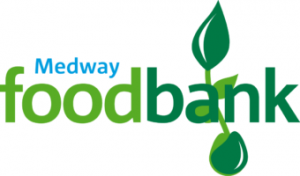 An email message from the Medway Foodbank team received Friday 26th March 2021
On behalf of us all here at Medway Foodbank, please find attached a certificate of thanks for your generous support during 2020. It was a difficult year for many residents in Medway and your kind donations enabled us to support everyone who needed it. We are truly grateful for all you have done.
St. Simon Stock Parish
St Benedict's and St Thomas More
supporting Medway Foodbank in 2020

Supporting the Medway Foodbank this Advent
 An email message from the Medway Foodbank team received this week
Thank you all for your much-needed ongoing support of Medway Foodbank. As life continues to be challenging, we are seeing continued increases in foodbank usage and we are always needing more stock. We are in need of many items so that we may continue to offer the same level of support to all that come to us in financial crisis. Please see here Medway Foodbank's latest stock shortage or 'shopping' list. This focuses on items that we particularly need in stock right now in order to continue to help those in crisis across Medway. We aim to provide a broad spread of basic provisions and some treats and extras where we can.
Items from our list can be purchased and dropped off at collection points in the 2 large Tesco and 2 large Asda stores in Medway, as well as at Morrisons Strood and the Co-op at Walderslade.
We are trying to discourage food donations directly to our warehouse to keep everyone safe but if you do need to come to us, please call our office (01634 757057) first to arrange a delivery slot, or email us at info@medway.foodbank.org.uk. Of course you can always send cheque donations to our office and say that you want the money to be spent on buying shortage foods.
Spareable: Instead of popping something extra in your basket or trying to get donations to us, you could help by buying something from our foodbank's wish list on the Spareable app (download from here https://www.spareable.co.uk/ or your usual App Store). You can also purchase gift vouchers for us through the app if you prefer this in lieu of making monetary donations, for purchasing food.
We are planning to move into a larger warehouse on the Medway City Estate soon and will notify you of the new details when we have a moving date.
Please do contact the office if you have any questions or need further information.
Thank you for your ongoing help, support and prayers – Medway Foodbank would not operate without your kindness and generosity.
You can use this Shopping List to shop online using the Spareable app or to donate items at a nearby Co-Op, Asda, Tesco or Morrisons supermarket that supports the Medway Foodbank shopping List December 2020
---
Medway Foodbank
Unit 19, Riverside 1, Sir Thomas Longley Road, Medway City Estate, Rochester  ME2 4DP
Tel: 01634 757057
Office Open: Tuesday –Thursday 9:30am – 3:30pm    Friday: 9:30am – 1:00pm
---
Medway Foodbank's Harvest Appeal 
A huge thank you to all our parishioners who supported Medway Foodbank's recent Harvest appeal. £331 was donated and this money will be used to buy much needed foodstuffs which are in short supply in the warehouse. As you can imagine the Foodbank team are working flat out during these difficult times to support individuals and families who find themselves in a time of crisis. They are very busy providing them with 3 days of emergency food and everyday essentials. Lorraine Schultze, the Foodbank's project manager wants to thank you all for your continued kindness and generosity. Without the help of churches in Medway, the Foodbank would not be able to continue to do their important work.