We have several Eucharistic Ministers in the Parish, helping the Priest to give out the Holy Communion at weekend Masses and taking Communion to those who are housebound, thus bringing the celebration of the Sunday Mass by the community to those parishioners unable to take part.
If you know of any parishioner who is unable to get to Mass through sickness or advanced age and wishes to receive Holy Communion at home, please contact the Parish Priest to make the necessary arrangements. Those to whom Holy Communion is taken are encouraged, if they are able, to prepare a small table with a white cloth and an ignited candle as a form of altar.
Eucharistic Ministers are invited to attend a Day of Recollection every year and they should renew their commitment annually.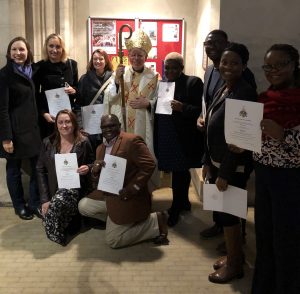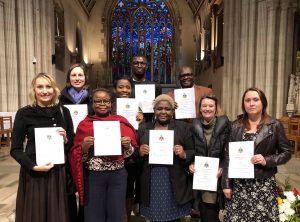 On Saturday 12th October 2019 twelve people from our parish attended a Day of Commissioning to become Eucharistic Ministers. The day was held at St George's Cathedral, Southwark. Our Deacon Martin drove us there in the minibus which added a really nice social feel to the day. We enjoyed two talks, one by Bishop Paul Hendricks on significance of the Eucharistic and sharing on our faith, and the other by Monsignor Matthew Dickens on the practical aspects of serving as a Eucharistic Minister. There was the opportunity to go to confession, we all enjoyed a time of adoration, and the day finished with a lovely mass including the presentation of our certificates. We all feel very humbled and blessed to be able to serve the parish in this way and ask for parishioners' prayers as we embark on our ministry!
Becky Warren-Heys