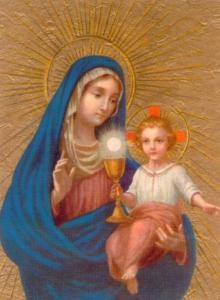 The Apostolate of Eucharistic Adoration is an Association of Adorers of the Blessed Sacrament, embracing God's call to weekly Eucharistic Adoration, striving to be a people of prayer, vision and mission, and accepting the challenge to live the Good News of Jesus Christ. This Apostolate is organised, maintained and developed by lay people. The Motto of the Apostolate is: "To Jesus through Mary" 
Eucharistic Adoration in our church takes place every Friday from 9.00 am just before the 10.00 am Mass. We also hold a Vigil on the first Friday of every month from 6.00 pm to 10.00 pm. Usually during the Vigil there is Adoration of the Blessed Sacrament, Celebration of the Holy Eucharist and an opportunity to receive the Sacrament of Reconciliation.
Since Wednesday 7th November 2018, additional Eucharistic Adoration has taken place every Wednesday, from 2.00 pm to 10.00 pm. Many members of our congregation have already committed to spending one hour during those times with the Blessed Sacrament. However, we would welcome many more people to share this wonderful experience with us every week.
PLEASE NOTE
There will be NO Adoration during periods of snow and ice when road conditions are too dangerous to walk or travel.
Eucharistic Adoration is open to all so you don't have to sign up for the hour every week, but can drop in when you are able. You don't even have to stay for an hour. Come when you can and stay for as long as you can to share the love of Jesus. We have to make sure that we have enough people in attendance so the Blessed Sacrament is never left alone. To achieve this, a schedule of Adorers is displayed on the noticeboard in the porch at the entrance to the church and if you decide, in the future, that you can commit to an hour, we would be very pleased to hear from you. Just contact Lynne Pearson, the Chair of the Apostolate Team on 07952 744679 so that a time of your choice can be allocated to you or you could be asked to 'cover' a particular period of the day when there may be too few people in attendance. Take this opportunity, if you can, to come and bathe in the light of the Lord, sharing your thoughts and feelings with Him and becoming transformed by His love.
A Mass to celebrate the first year of Eucharistic Adoration on Wednesdays was held on 6 November 2019.  It was a joy to have so many of the Adorers in attendance, with members of the Parish and some other guests.  The choir was an additional bonus, enhancing an already joyful occasion.
Eucharistic Adoration is a time to be with the Lord, sharing joys and sorrows with Him and taking those precious moments to be with Him, feeling His presence. Some of our Adorers have committed to attending every week; some come almost every week for an hour or for whatever time they have; some come when they can.  All are welcome.
There are still some times when we would like 1 or 2 more Committed Adorers so that we are always sure of enough people to be with the Blessed Sacrament during each hour:5 pm – 6 pm; 6 pm – 7 pm; 7 pm – 8 pm and 8 pm – 9 pm.  We are blessed to some amazing Emergency Adorers who cover when Committed Adorers are unable to attend.
If you have not managed to attend Adoration yet and would like to do so, just pop in at a time to suit your schedule.  Stay as long as you like and, if you want to commit to a regular slot, there are forms on the table near the signing-in sheet you can complete.
If you can't attend, please continue to pray for those who are managing to do so bringing you into communion with them.
Adoration takes place every Wednesday.
Days when there will be no Adoration, are published in the parish weekly newsletter in advance.
If you need any further information about Eucharistic Adoration, you can contact me (LynnePearson) on 07952 744679 or by email on Lmp2409@outlook.com.
God bless.