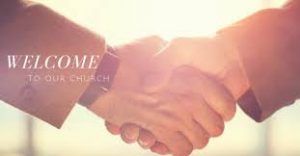 The Welcome ministry is more than just handing out hymn books.
Our group of volunteer Welcomers greet everyone at the entrance to the church and is the first point of contact for newcomers to our Parish. They give out information about the various Groups and Organisations that exist in our Community and they invite all Mass attendants to get together socially after Mass to share companionship and friendship in a "family" atmosphere over a cup of tea or coffee.
It is hoped that everyone coming to Mass at our church will experience a sense of belonging to the Greater Family of God and will join in the many social activities and Liturgical Ministries available to all.
To find out more about the Ministry of Welcome please click here. The web page will open in a new tab.